The virtual office is ramming! Break the loneliness of working at home and walk to your colleagues to chat!
2021. Jun. 3
736
King One Design Reporter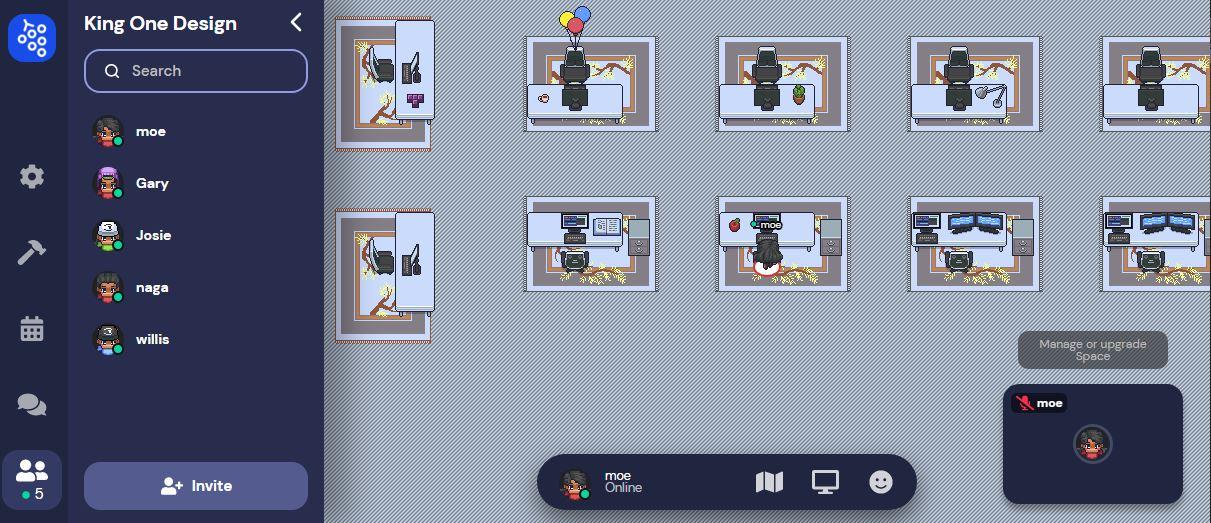 There are a variety of virtual characters to choose from in Gather Town, and you can know the people who enter the office at any time.
During the third-level epidemic, the home office population has grown significantly. Many people are unable to adapt to sudden changes in the work environment and work processes. Especially under the restrictions of being unable to go out and socializing, the sense of loneliness has become more obvious! For this situation, the Gather Town virtual office is a good choice for adaptation!
Home office impact: less interactive fun among colleagues
A variety of situational facilities to choose from

Multiple exclusive rooms can be created

Gather Town official website description 1

Gather Town official website description 2
When it comes to creating two words, do you find it difficult or too time-consuming? do not worry! The basic template of Gather Town has a variety of environments and facilities, and you can directly click on the office template to apply. If you have played Switch Animal Crossing and love to create home furnishings, you can enjoy the same fun in Gather Town! Whether you want to reproduce the office perfectly, or decorate your location with decorations that you can't usually think about, such as being surrounded by plants and being too busy, you need to escape from the exclusive tunnel (?), you can achieve it, for the boring far End office brings a lot of fun.
Virtual office is ramming: Five interactions that are more real than online meetings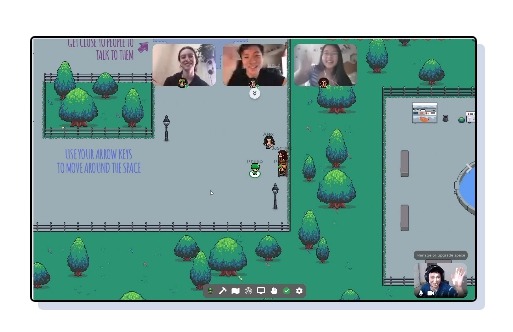 Bored at work? Let's go to the park to breathe! (Schematic diagram of official website)
So why is Gather Town so popular? Because in addition to the lovely style of painting, there are unexpected interactions that make people feel as interesting as real interactions. It is like visiting a friend's office, and you can also give him a drink when you visit! What other attractive designs are there?
1. Life reappears-automatically radio and join chat by colleagues
Walking and passing by the person talking, you can gradually hear the voice of the conversation, and you can participate in it immediately. Isn't this the scene of going to the tea room to pour water on weekdays and joining when you see colleagues chatting!
2. Create surprises-give customized gifts and paper strips to warm your heart
You don't need too many complicated buttons. Just find the drink module and write a thoughtful comment with Demo. When he comes back to see it, he will be pleasantly surprised. Even if you can't meet each other, you don't feel alienated because of it~ (Editor: Friends still take advantage It's really a surprise if people don't secretly put gifts on the table, but whether the office can open to friends depends on your company.)

How about changing a more comfortable sofa chair for a colleague? Or send a cup of special coffee in the afternoon!
3. Entertainment activities-play games together during breaks
If you work hard, you must rest and have fun~ Gather Town even has game functions! Put a block on it, you can connect to play Tetris after you click it, or you can draw it together, I guess, there are more mini games in it, waiting for everyone to experience it.
Ancient games still have charm

Drawing and playing poker are also fun
4. Basic functions-indispensable for online meetings
If you pass by, you will hear or be heard, so how about a meeting? Don't worry, just create a meeting room, just like a meeting room in an office, close the door and create an independent space without being disturbed by passing colleagues! Online meetings were always a bit awkward before? Here, looking at the real-time avatar screens on the respective virtual dolls, on the contrary, people have a real sense of returning to the company office for a meeting!
5. Hidden ingenuity-all kinds of interesting ideas are waiting for you to realize
Have you ever thought about the authenticity of the office? This is not difficult in Gather Town. Use your fingers and creativity to make the life of remote office a lot more fun! What other interesting features are waiting for you to experience!

Be creative and create all kinds of exclusive spaces! (Photo of Gather Town official website)
Keep a safe distance and keep your heart away
In fact, Gather Town is not only used in the office, but also in various situations, such as online gatherings of family or friends. Everyone can build a space together, interact and communicate on it, and arrange to watch videos and play games together. Everyone in the two places feels like being in the same space. Under the influence of the epidemic, while keeping a safe distance, be careful not to let each other's hearts far away~
Come and build a Gather Town for your boring colleagues and friends!