Client
Industrial Research Institute
Industry
Government and Associations
Exhibition
Mobile World Congress (MWC)
Taiwan National Pavilion x Kingone Design
We, KingOne Design, was very honored to be favored by ITRI, chosen as the design team to build the best show booth for the high development of Taiwan technology industry in The World Congress on Information Technology (WCIT) 2018 in Barcelona.
Encircled Structure and Green Design - "Technology Comes from Human."
The image of "embrace" is the main concept of this booth design. Looking from the outside, the large circular ring structure immediately caught attendees' attention. This design not only increases Taiwan's image, but also creates a feeling of embracing the attendees into the arms of Taiwan's technology world, adding the warmness of human beings and subtracting the coldness of technology. Last but not least, instead of normal flat shape LED monitor, we choose a circular one to emphasize the streamlines of the booth and enhance the dual trait of strength and gentleness at the same time.
Chunghwua Telecom Welcomes the 5G Generation: "5G" for Brighter Future
2018 is recognized as the 5G communication year. Communication technology development is focusing on bigger bandwidth and faster networking system. In responding to this trend, Chunghwa Telecom presents the ability of self-research and development, using MEC and SDN to provide more flexible network for the clients, establishing the foundation of 5G generation. The display items include self-manage network brandwidth, mobile SNG, reality remote collaboration, and AI facial identifying system.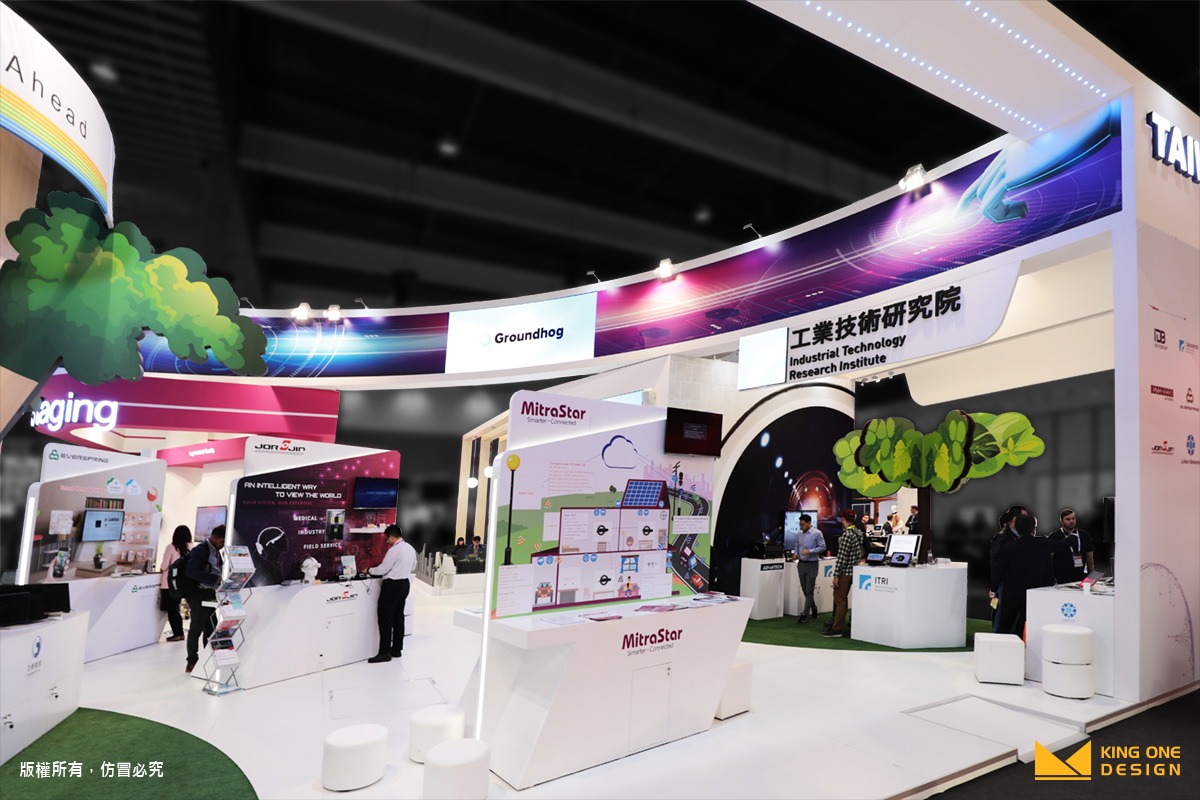 See-through and Multiple-Layers Vivifies the Sense of Sight
Besides the image of coexistence, the overall presentation of multi-layers is one of the highlight in the design. We, KingOne Design, utilize the height difference to create the front and rear view, solving the problems of blocking the platform on the back to show the whole booth. In addition, the see-through ability is a vital trait to this design; by subtracting the big structure, it is easier to see every area of the booth with one glimpse.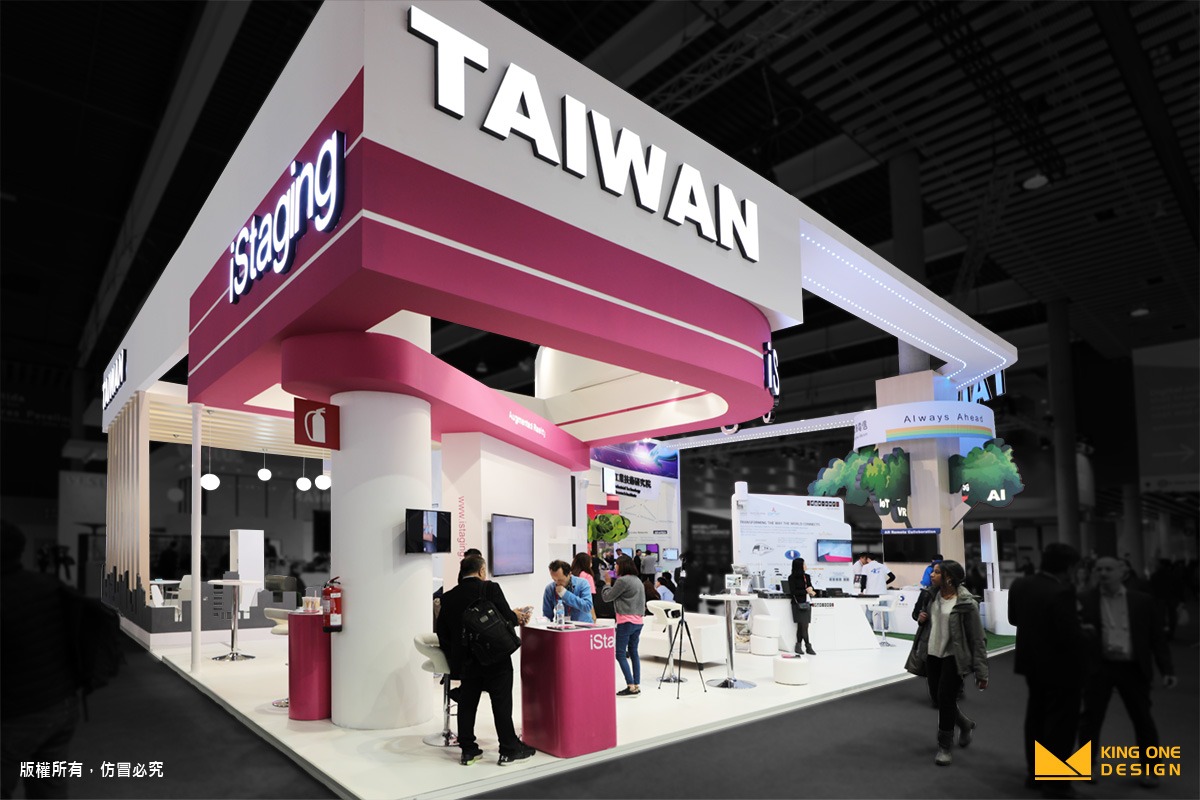 Three Areas Owns Individual Features yet with One Consistent Style
In the point of structure and display, after evaluating the attendee's visiting route, we decide to use peninsular stand to bring out the best of the booth. The display order from the front to the back is: 5G UDN Area, 5G AI Area, iStaging Area, and semi-open meeting area.
--5G AI Area is built with curved tunnel on the wall, as a path to the future, symbolizing the forward-looking nature of the product.
--iStaging Area is "the City of the Sky." We use a unique cutting board and well-designed pillar in the middle as KV to present the multi-application of the products.
--Meeting Area is covered by wooden fences ceilings with simple ceiling lamp, embellished with the silhouette of the city, in the hope of creating a relaxing and warm atmosphere for business discussion.