Industry
Technology (Electronics / Communication / System)
Innodisk x Kingone Design
In Embedded World, we, KingOne Design, worked with many corporate, not only building the professional image in booth design and planning, but also offering the best construction quality in overseas exhibitions.
Brief Introduction of Embedded World
As a leading international world fair with the focus exclusively on embedded technologies, Embedded-world gathers 1,020 exhibitors and more than 30,000 trade visitors from 73 countries in every year. In this exhibition, there are so many interesting discussion forums with insights into the future. As a trusted name for exhibit booth in Taiwan, we King One Design build mutually beneficial partnerships with many Taiwan's companies in Embedded-world.
Build Your Brand - Task
Multiple Brands in One Stand
Halo Lighting
Walking Route Design
Build Your Space - Solution
Concept and Color Tone
Using lighting to distinguish several areas is a very common way in theater stage design. Besides using different counters and clapboard to create several areas, we also used lighting to improve and carry out each brand's feature in booth design.
The literal "highlight" of this booth design is the clever use of "Halo Lighting." To bring out the sense of high-technology and quality design, we, KingOne Design, took the advantage of the different lighting technique to fulfill this task, so instead of traditional lighting design, we decided to choose halo lighting as the main element. With its softer lighting, the products and the booth itself still got well-presented, but the eyes got way more soothed, and this, is the key to keeping the attendees in as long as possible.
Structure and Showcases
Thanks to the soothing halo lighting, attendees can stay longer, yet to offer them the best experience, we put some efforts on the route design. By cleverly organizing the wall panel and island-style counter, each brand had its own area, yet all the areas were all connected; in this way, the exhibitors could receive the highest booth visibility and raise the your brands awareness in just one stand.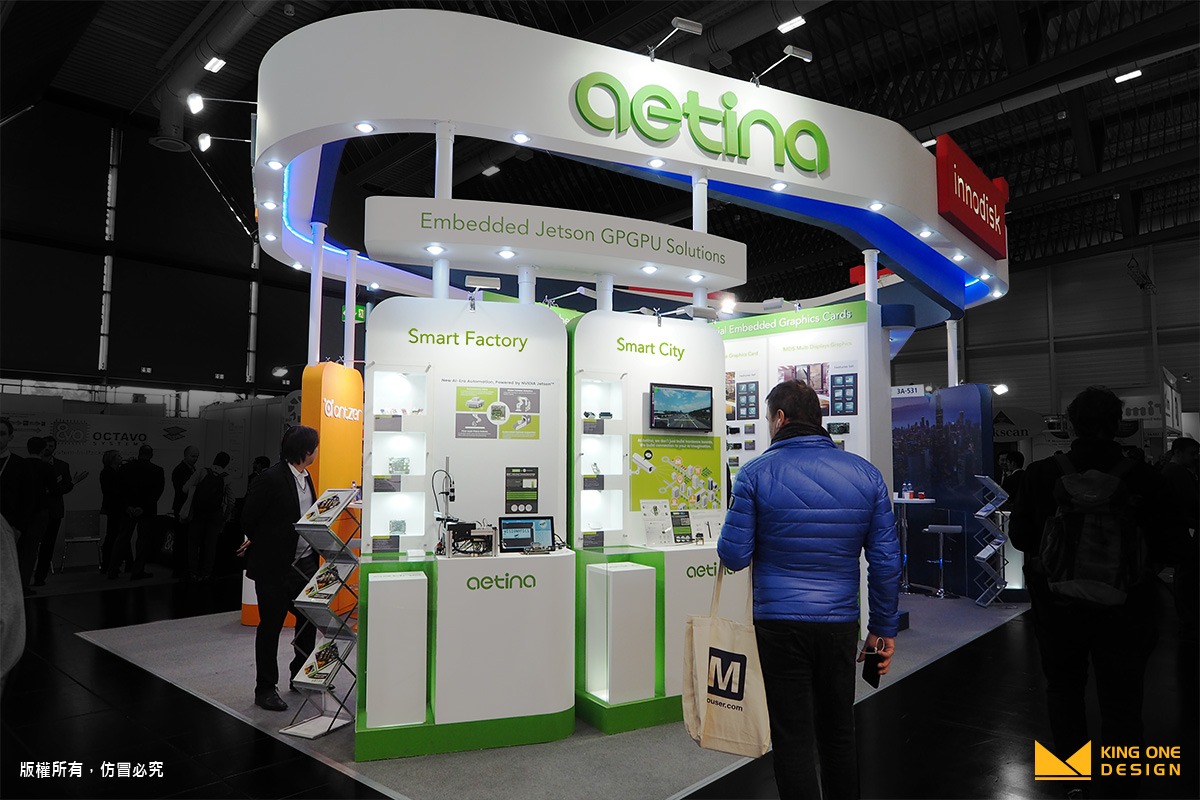 Multi brands in one stand - aetina
Multi brands in one stand - antzer